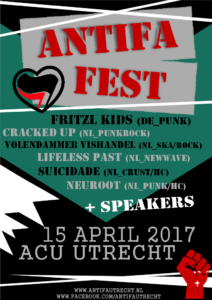 UPDATE: SUICIDADE WILL BE REPLACED BY RC SULLIVAN
UPDATE: SUICIDADE HEEFT GECANCELD EN WORDT VERVANGEN DOOR RC SULLIVAN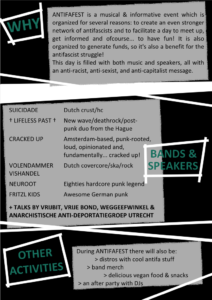 Bewaren
Bewaren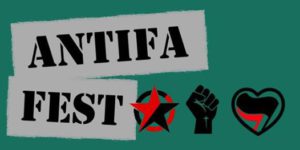 Antifafest is een benefiet festival om aandacht te vragen voor antifascisistische acties, en te zorgen dat we deze in de toekomst ook kunnen bekostigen. Op het programma hebben we zeven bands en verscheidene sprekers staan, ieder met een anti-racistische, anti-kapitalistische en anti-seksistische boodschap. Daarnaast hebben we distro's en vegan eten! De namen van de bands en de sprekers maken we bekend zodra deze bevestigd zijn, dus hou het programma in de gaten op https://antifautrecht.nl/ voor de updates! Deur open 13u. minimaal 7 euro.
Antifafest is a benefit festival to raise attention and funding for the antifascist cause. A day filled with both music and speakers, each with an anti-racist, anti-sexist, and anti-capitalist message. Expect seven bands, several speakers, distro's, and vegan food! Names will be announced once everyone is confirmed, so check https://antifautrecht.nl/ for updates! It begins at 13h, inkom is 7 euro.
Bewaren

On sunday 5 February 2017 we will organize another Antifa Cafe.
This edition will be a little bit different as usual, since the nationalistic right wing group PEGIDA is coming to town. This means that we won't have lectures during the day, We call out to join the demonstration organized by Utrecht bekent kleur, and/or join in direct action against PEGIDA. If you want to participate in direct action we will have a lawyer and 'Arrestanten groep' ready (more info will follow)
After the demonstration we are going to the ACU (Voorstraat 71, Utrecht) where there will be dinner (on donation) served at 19:00 and after that we are going to screen the small documentary: Nästa Station Rönninge (2015), a documentary about an annual fascist demonstration in Stockholm and the different tactics antifascists used
to counter this demonstration.
Demonstration of Utrecht Bekent Kleur:
https://www.facebook.com/events/1792249741026308/
Beware! The exact time of the planned demonstration (both PEGIDA and Utrecht Bekent Kleur) will probably change!
We hope to see you on the streets the 5th of Febuary!!